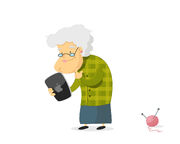 Granny Devon is the oldest in the Devon family she is  70 years old she the mom of Angeline's mother! Eventullally she is very nice, very fun with kids even enjoys hanging out with Angeline and Sternatte.She very nice and seen in the book 
It is possible she is also fan-made as Angeline, again, was stated as an only child. 
Section heading
Edit
Section heading
Edit
Ad blocker interference detected!
Wikia is a free-to-use site that makes money from advertising. We have a modified experience for viewers using ad blockers

Wikia is not accessible if you've made further modifications. Remove the custom ad blocker rule(s) and the page will load as expected.